How advancements in integrated circuits could transform healthcare wearables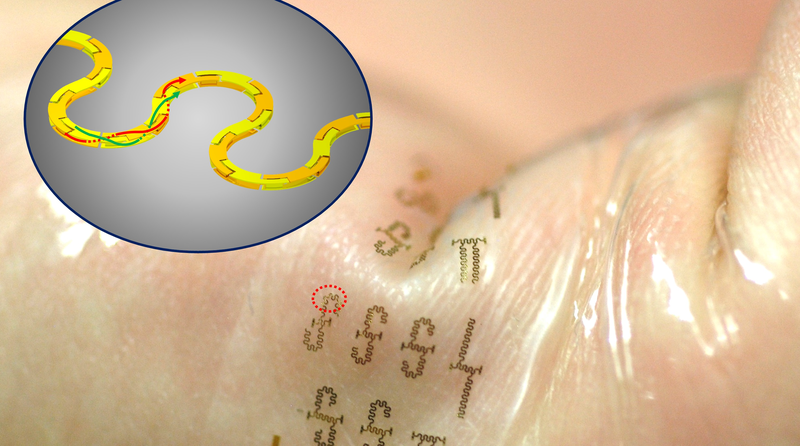 Picture credit: Yei Hwan Jung and Juhwan Lee/University of Wisconsin–Madison
Researchers from the University of Wisconsin-Madison claim to have developed the fastest stretchable, wearable integrated circuits, which could disrupt the healthcare wearables space.
The details were published in the journal Advanced Functional Materials and the team was led by Zhenqiang "Jack" Ma, Lynn H. Matthias Professor in Engineering and Vilas Distinguished Achievement Professor in electrical and computer engineering at UW–Madison.
The devices function with microwave radio frequencies that are electromagnetic waves that use frequencies in the 0.3 gigahertz to 300 gigahertz range and fall in the purview of 5G. In an intensive care unit, epidermal electronic systems could facilitate monitoring of patients remotely and wirelessly, thereby enhancing patient comfort by cutting down on the use of cables and wires. Epidermal electronic systems hold on to the skin like tattoos.
Ma, whose work was supported by the Air Force Office of Scientific Research, said: "We've found a way to integrate high-frequency active transistors into a useful circuit that can be wireless. This is a platform. This opens the door to lots of new capabilities."
The new, stretchable integrated circuits feature two ultra-tiny intertwining power transmission lines in repeating S-curves that allow stretching without impacting performance. The design aids in protecting the lines from outside interference while restricting the electromagnetic waves flowing through them, almost doing away with current loss. At present, the stretchable integrated circuits can operate at radio frequency levels up to 40 gigahertz.
You can find out more about the research here.
Interested in hearing industry leaders discuss subjects like this and sharing their use-cases? Attend the co-located IoT Tech Expo, Blockchain Expo, AI & Big Data Expo and Cyber Security & Cloud Expo World Series with upcoming events in Silicon Valley, London and Amsterdam and explore the future of enterprise technology.