Review: Beat the winter blues with Re-Timer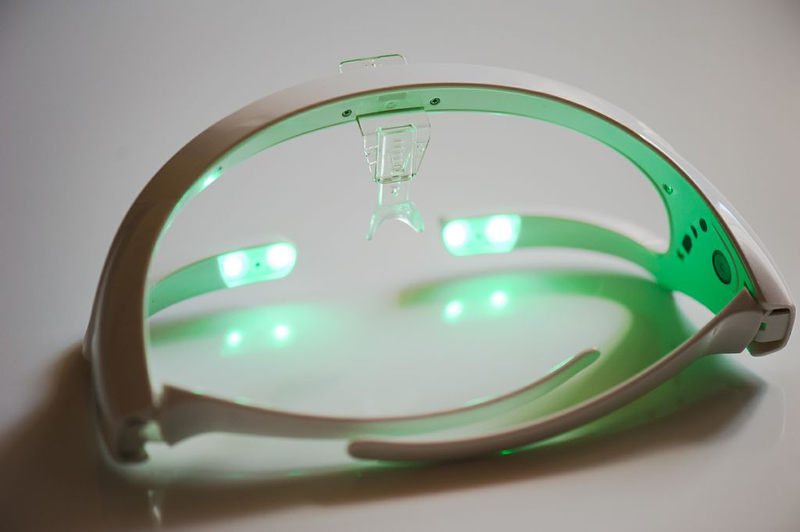 (Image Credit: Re-Timer)
Re-Timer is a pair of glasses designed in Australia which uses light therapy to alter your circadian rhythm, or "body clock" as it's often known. One season in particular causes havoc with our natural sleep cycle and can affect our mental state, winter.
Many people, including me, suffer from something called SAD (Seasonal Affective Disorder) whereby the short hours of daylight – combined with dark mornings and evenings – causes the brain to forget when it should be waking-up and switching off.
Created using scientific research, the Re-Timer beams a harmless green-blue light in the 500nm wavelength at the bottom of the eyes. This light is beamed at a specific angle which mimics natural light without being distracting whilst doing other tasks. Using the Re-Timer in the morning can provide the brain with the same light it would receive during summer mornings, whilst using it on dark evenings can suppress melatonin production which leads to premature tiredness.
Re-Timer app
Altering your sleep cycle requires following a specific program which trains your brain to adapt over time – whether to recover from jet lag, or just to get those bad sleep habits back in order. Re-Timer's app is only available on iOS as of writing, but a "Sleep Calculator" is available on their website to perform the same functions.
The benefit of the iOS app is Fitbit integration which can automatically sync your actual sleep data from a Fitbit device. I've been wearing the Fitbit Surge now for a few weeks, so it was great to see all my data pulled into the app with just a button press.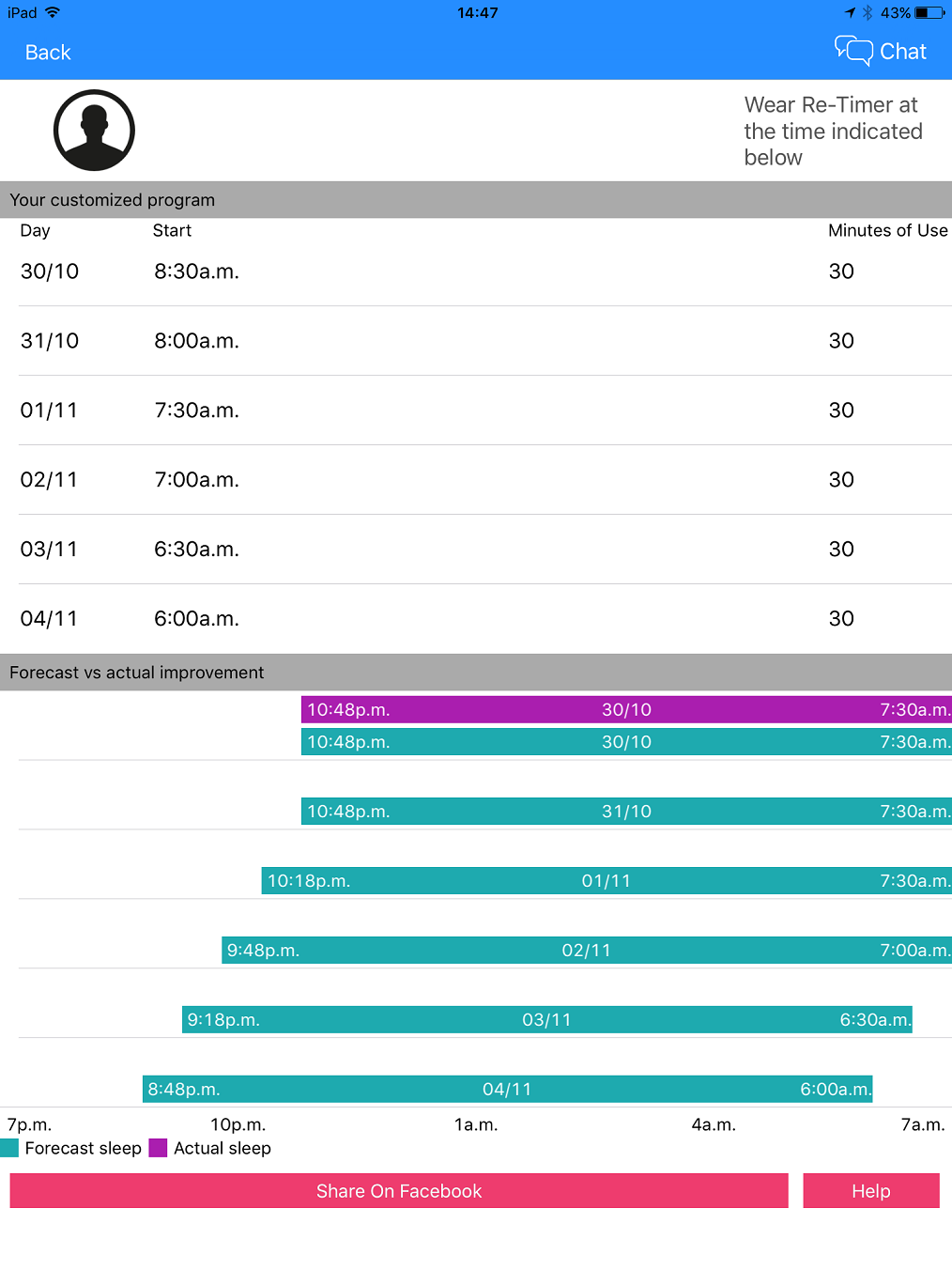 After your sleep data has been pulled-in, or entered manually, you can then set what time you would like to start waking up or falling asleep. Just one further button press and you receive a personalised schedule telling you when to wear your Re-Timer and for how long.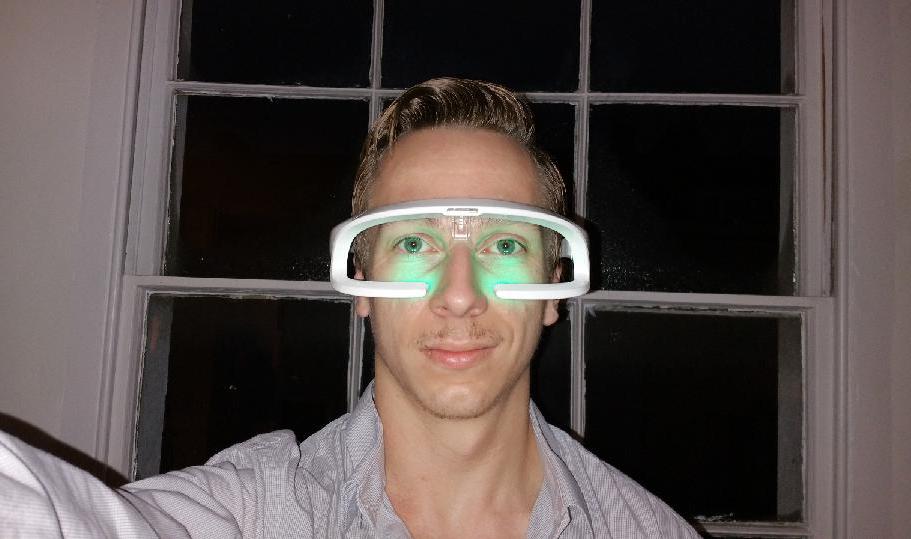 Whilst I can't speak on its effectiveness on changing your sleep cycle, I can speak on how well it works for beating the winter blues. Wearing the Re-Timer in the morning when it's still pitch black (as you can see in the picture above) was enough to brighten up my day. When it got to leaving the artificial lighting of the office in the evening, back into the dark, wearing the Re-Timer was enough to perk myself back up for a few hours before hitting the pillow for some restful sleep at the right time.
Functional design
Re-Timer is a medical device, so it won't be winning fashion awards. With that being said, what the designers have achieved is fantastic in terms of functional design.
The device is made out of robust plastic which feels like it could withstand some accidental knocks or drops, whilst the hinges maintain just the right amount of resistance to pull on the device quickly but have it feel secure on your face. An adjustable nose bridge is also present to ensure a comfortable fit with anyone who chooses to use the device.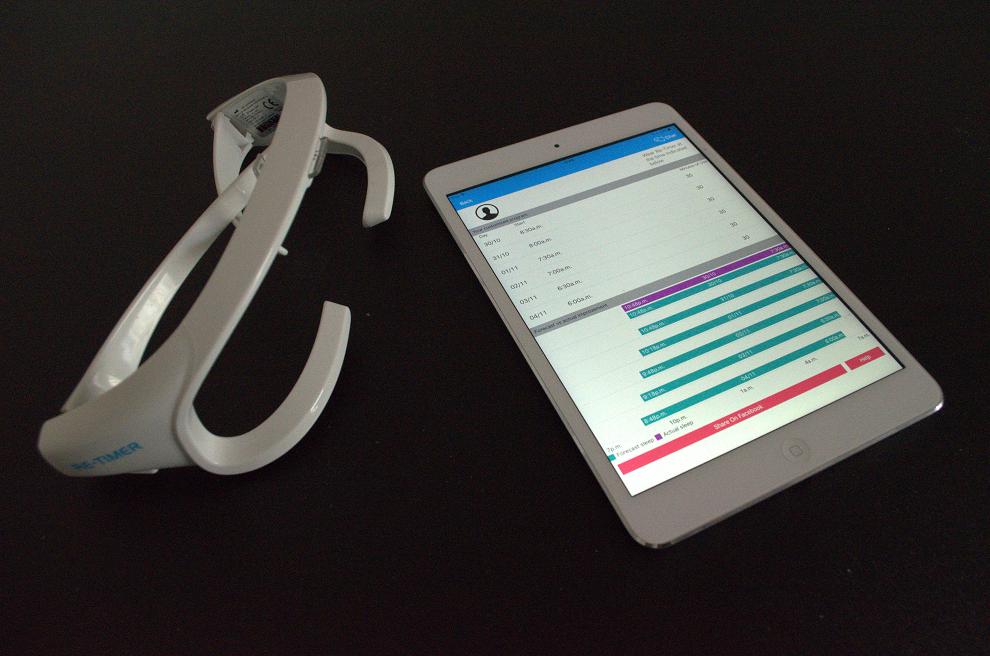 Wearers of standard glasses have also been considered here, with the design providing ample room to wear them whilst using the Re-Timer to ensure you can make the most of every available hour in your busy daily life without disruption.
On the bottom of the device you will find a USB port for charging. Moving to the inner side of the Re-Timer we find a battery indicator, which is located next to a soft push button used for powering the Re-Timer and cycling between three different modes; low light, high light, and off.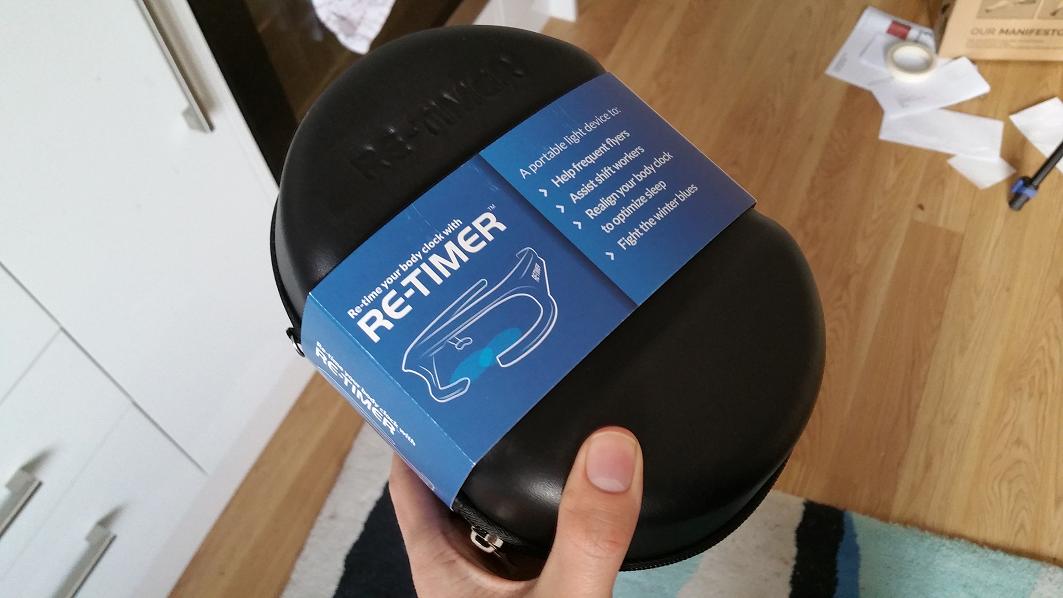 Containing the device is a high-quality carry case, similar to what you would receive to protect high-end headphones. This case allows you to chuck the Re-Timer in your bag when travelling without fear of pulling out a crushed mess at the end of your journey, and begin getting your sleep cycle back in order after that long flight.
Conclusion
If you feel the winter blues, suffer from insomnia, or travel often, then Re-Timer could become a vital addition to your wearable devices. Even for occasional use, I've found the Re-Timer has become indispensable. At $299 (£149) it might prove to be at too high an entry-cost for many people, but can you put a price on health and mental wellness?
Take a look at our video review of the Re-Timer below:
For more information, and to get your own Re-Timer, head this way.
Do you think ReTimer is a useful wearable for light therapy? Let us know in the comments.
Interested in hearing industry leaders discuss subjects like this and sharing their IoT use-cases? Attend the IoT Tech Expo World Series events with upcoming shows in Silicon Valley, London and Amsterdam to learn more.
The show is co-located with the AI & Big Data Expo, Cyber Security & Cloud Expo and Blockchain Expo so you can explore the entire ecosystem in one place.