Review: Putting the Fitbit Surge through its paces
When it comes to fitness trackers, the most renowned players are Jawbone and Fitbit. Both of these companies push the boundaries when it comes to keeping us healthy, but of the two, only Fitbit has so far attempted to combine a powerful tracker with smartwatch functionality in their most-recent flagship, the Surge.
Has the company pulled off this ambitious feat? It's time for us to find out...
Design, Battery, and UI
First and foremost the Fitbit Surge is a fitness device, and therefore it has been designed as such. As far as fitness trackers go this device is understated enough to wear on casual or business occasions, but it won't be getting some admiring glances like the Huawei Watch.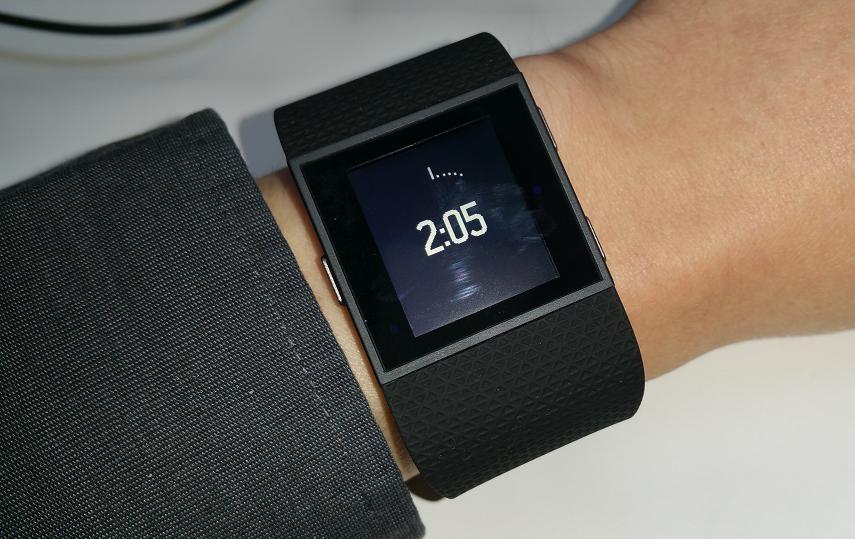 The front of the device features a black and white OLED 1.25-inch touchscreen display with sizeable bezels, one physical "home" button on the left, and two navigation buttons on the right. It's a fingerprint magnet – to be expected on a fitness device – but you can't help but feel perhaps just the buttons would have been a better idea for navigation, similar to Pebble's smartwatch.
On the back you will find a port for a fiddly proprietary charger, which is a shame that a standard USB port wasn't used to ensure you can replace cables or top-up on juice if you get stuck. With a reported 7-day battery life this shouldn't happen often, but I have found myself charging up before the end of the second day with moderate usage (although I have a feeling I've ended-up with a faulty unit.)
For the most part the UI is fast and functional. The device's home screen will always show the current time, and you can flick left and right to have a quick look at your steps taken, current heart rate, distance traveled, calories burnt, and number of floors climbed.
A press of the "home" button on the right brings you to a menu for all the major functions on the device. The first item found on the menu is "Run" which should tell you straight away the key market this device is targeted at. Diving into this menu gives you further options for treadmill run, free run, and lap run. For runners this is great, but for people who track other workouts it would be nice to have the option to move or disabled altogether for quicker selection.
Further along the menu you get to a general "Exercise" tab which features activities that can be customised through Fitbit's web portal. By default, the Surge has options for hiking, weight lifting, elliptical training, spinning, yoga, and general workout. This device – the current flagship for Fitbit – is the first to feature support for cycling, but it's strangely not on here by default.
Going over further along the menu you have options for 'Timer' and 'Alarm' which I'm sure requires little introduction.
Fitness Tracking
When a technology giant attempts to understand the complex needs of the fitness world, they often fall short as we're seeing with most current smartwatches. When a fitness-based company delivers a device, you expect success, which is what Fitbit delivers.
Fitbit's latest device is the first to feature built-in GPS which allows you to leave your smartphone at home when you go for a run. In a quick trial, I was shocked at how fast a GPS signal was picked-up and I could let the device fade into the background and focus on making it around the corner without having a heart attack – which funnily enough the device would also report.
Unfortunately the GPS didn't locate me right on the road, at least at the start of the run. Considering how quick the device picked-up a GPS signal gives me cause to believe it didn't pick up enough satellites at the start to fully triangulate my position, it would be nice to see an indication of signal before the run for those wanting to ensure complete accuracy.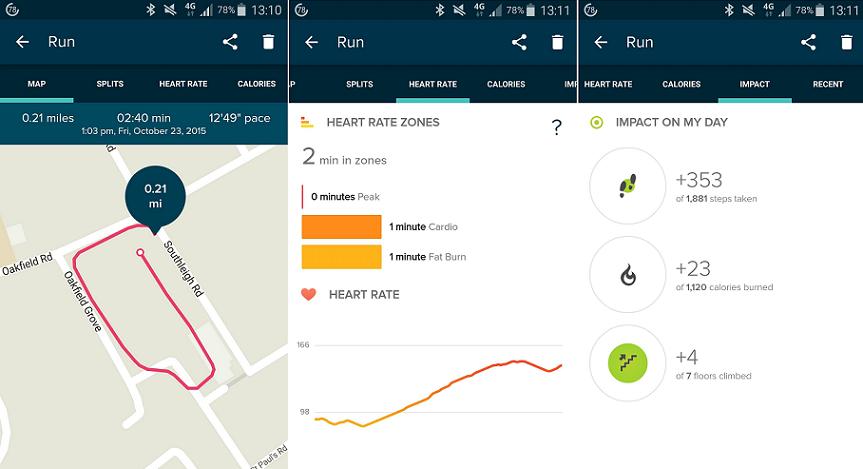 As mentioned earlier, the device also tracks your heart rate which is great for those hoping to hit particular heart rate zones – customisable in the app – and ensure you're working hard enough but not to a dangerous level.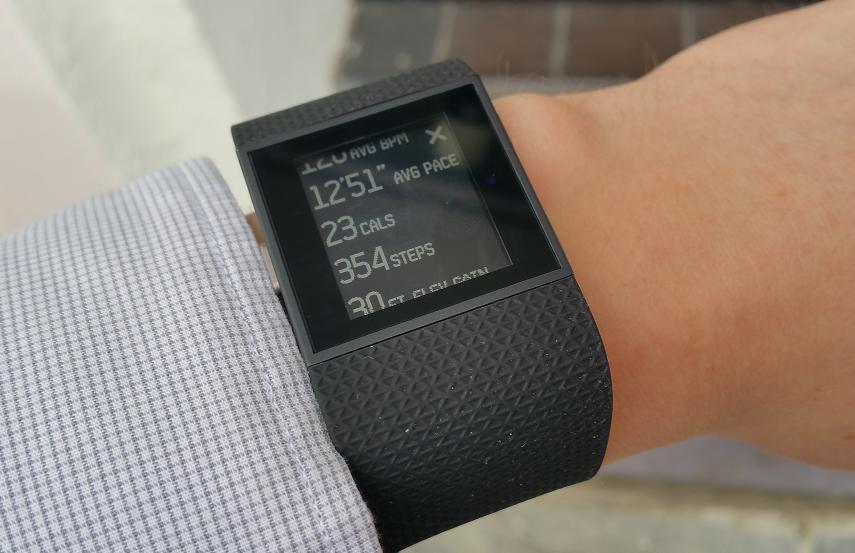 Post-workout you'll get a nice summary of how you did on the device with all the stats you would expect; time, pace, heart rate, calories, steps, and elevation. Sync with your smartphone or the web and you can see further in-depth statistics about your workout including a map (where applicable) and the progress it gave you towards your daily goals.
Smartwatch Features
If you're looking for a powerful fitness tracker which can also double as your daily smartwatch, you might want to hold on a while longer. Whilst the Fitbit Surge offers notifications for texts and calls, they are often hit and miss. Messages in particular will sometimes pop-up late, and sometimes they just won't show at all despite taking all the usual troubleshooting procedures.
This could be a compatibility issue with the Samsung Galaxy Note 4 we used for our test, or perhaps even the apps we use on the device (Hangouts for messages.)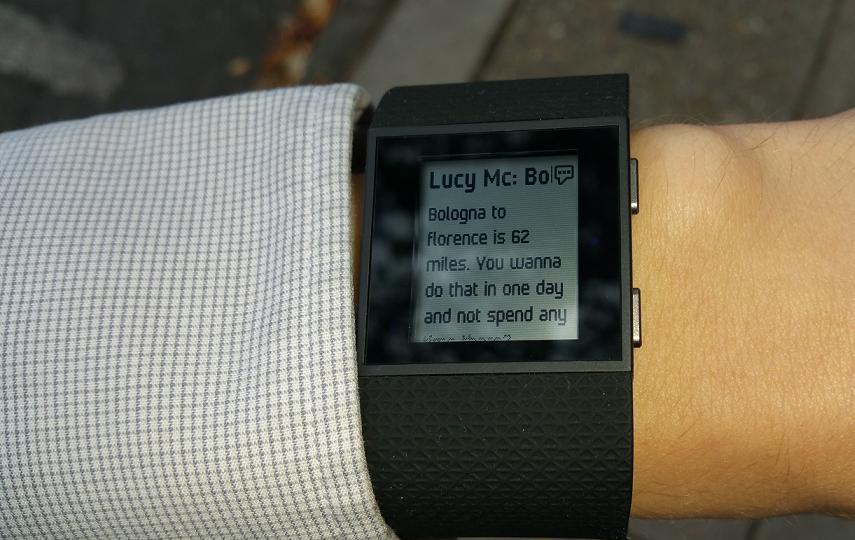 For people who like to go for a run during their work hours, it would be nice to have support for receiving emails. For all the social people out there, it would be great to have support for Twitter and Facebook notifications. In some ways it's refreshing to have a device which is just good at what it does and doesn't attempt to do too much, but it could do with a little more work in this department.
The device also falls short in the morning alarm department. You can set a "silent alarm" which buzzes you awake when you set it, but it doesn't use all that light sleep / deep sleep data it collects throughout the night to ensure you're awoken during the lightest period of sleep possible like some competing devices.
Conclusion
Fitbit hasn't quite merged a smartwatch with their renowned fitness trackers, but they've delivered a solid package which is our current pick for keeping on top of your health. There are some areas which the company would do well to improve – such as sleep alarms and better notification support – but on the whole this is a device worth checking out.
Promisingly, we can't see any reason why Fitbit can't fix any of the issues we have with the device in coming updates.
Take a look at our video review below for a more in-depth look:
What are your thoughts about the Fitbit Surge? Let us know in the comments.
Interested in hearing industry leaders discuss subjects like this and sharing their IoT use-cases? Attend the IoT Tech Expo World Series events with upcoming shows in Silicon Valley, London and Amsterdam to learn more.
The show is co-located with the AI & Big Data Expo, Cyber Security & Cloud Expo and Blockchain Expo so you can explore the entire ecosystem in one place.