Leatherman offers multi-tool bracelet which turns the smartwatch on its head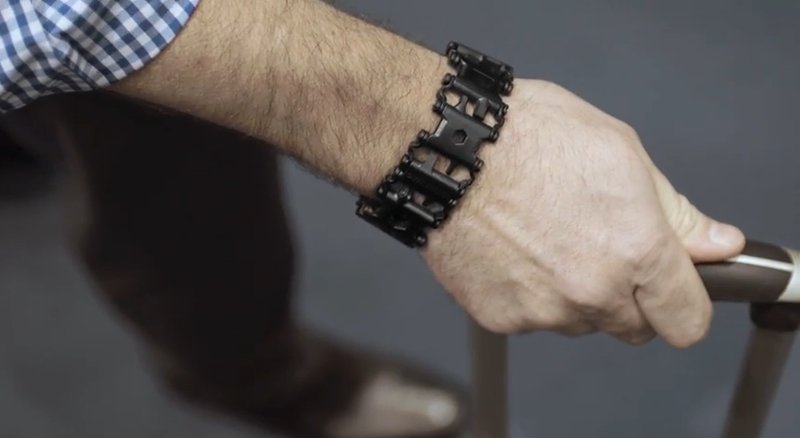 Picture credit: LeathermanMedia/YouTube
Here's a novel approach to building a smartwatch. Leatherman is offering its well known multi-tool set as a bracelet which houses screwdrivers, cutting hooks and box wrenches with the Leatherman Tread.
The idea came to Leatherman president Ben Rivera on a family holiday trip, when he was unable to get past airport security. "I knew there had to be another way to carry my tools with me that would be accepted by security," he explained. Rivera wore a bike chain around his wrist to aid the design process.
The most interesting aspect of this design is its fully customisable nature, with slotted fasteners and rearrangeable links. Every part is customisable, with the clasps doubling up as a #2 square drive, or a bottle opener.
According to Rivera, the original design lent itself so naturally to having a watch attached to it. The plan is for the Tread watch to be released in the third quarter of 2015.
The design has already received wide praise by users on the company's official YouTube page, and represents a fascinating look at how other smartwatch manufacturers could be better utilising precious real estate.
Similarly, the design plays into a continual trend of aesthetics being a foremost consideration when it comes to building wearable technology. Don't think the Tread is just a pretty face, however; each part is made of metal-injected moulded 17-4 stainless steel, so there's no question over a part snapping off when you get round to doing some DIY.
Take a look at the video demonstration below:
Interested in hearing industry leaders discuss subjects like this and sharing their use-cases? Attend the co-located IoT Tech Expo, Blockchain Expo, AI & Big Data Expo and Cyber Security & Cloud Expo World Series with upcoming events in Silicon Valley, London and Amsterdam and explore the future of enterprise technology.