Jim Beam launches 'drinkable wearable' Apple Watch equivalent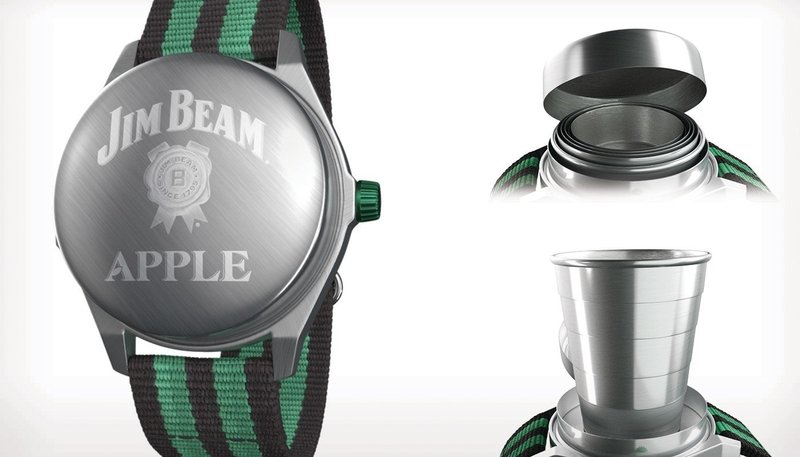 Picture credit: Jim Beam
Whiskey brand Jim Beam has launched its own equivalent of the Apple Watch in what the company describes as "the most anticipated tech release of the year."
The Jim Beam Apple Watch claims to be the world's most innovative 'drinkable wearable' with the capability to open up a 1.5 ounce shot glass on the user's wrist. The watch, which is available for a limited time, also boasts a 'streamlined interface'.
"Critics may ask, 'What good is a watch that can't tell time?'" said Fred Noe, Jim Beam's seventh generation master distiller in a statement. "We actually think we've created a watch that helps you make time. Who doesn't want to make time for friends, family and a refreshing Jim Beam Apple shot or cocktail?"
Naturally, this statement is laced with a double shot of irony. Jim Beam is piggybacking on the much-publicised Apple event the previous night for its tongue-in-cheek product launch, with the firm's Jim Beam Apple product range making it a legitimate reference point. According to AdWeek, Jim Beam worked with agency Olson Engage on the project. The two companies announced they were working together in January this year.
A video explaining the Jim Beam Apple Watch has some particularly choice lines, including "it's available exclusively in green, because some apples are green", and "The Jim Beam Apple Watch also includes a dial. It's also green, but it serves no purpose."
The product costs $17.99 – but crucially remains 'temporarily out of stock' on the company's store page.
Interested in hearing industry leaders discuss subjects like this and sharing their IoT use-cases? Attend the IoT Tech Expo World Series events with upcoming shows in Silicon Valley, London and Amsterdam to learn more.
The show is co-located with the AI & Big Data Expo, Cyber Security & Cloud Expo and Blockchain Expo so you can explore the entire ecosystem in one place.