Ringly aims to keep you up to date but with your phone out of sight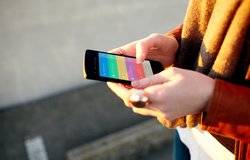 Meet Ringly. This startup's piece of wearable technology keeps you up to date with notifications, but makes sure you're not pulling your phone out of your pocket every few minutes.
Utilising Bluetooth Low Energy (BLE), the ring's BLE-enabled circuit board makes the connection with the user's phone, and is available on both iOS and Android platforms.
The ring lights up a specified colour and gives a different vibration pattern dependent on the type of notification received, be it a...